Why Google's Top Spot Is The Web's Favourite Hotspot
Being listed on a secondary page of Google is practically a sin. For most web users, clicking on that second 'O' is a rarity. Who can be bothered to search through a second page of listings to find what they're looking for? 'Not I', said the walrus. You may as well just try another search term.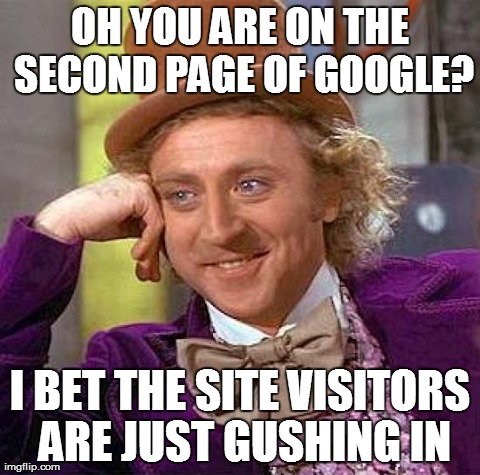 The truth is, even the lower ranking first page links are pretty unattractive to most browsers. There's just no where like Google's top spot, and last summer ad network Chitika confirmed it.
When it comes to Google's top placed listing, it's reported that around 33% of Google's organic search traffic is driven to the number one spot, compare to just 18% for those in second place. And, unsurprisingly, the traffic deteriorates rapidly as you go down the list!
So what is it about that top blue link that makes the first listing so tempting for browsers? Surely it's not purely a case of laziness…
Monkeys Wearing Hats
Whilst the average web user knows little about the magic of SEO, even a Google novice will realise the correlation between relevant content and top place positions after a few searches. Google work tireless to keep their search formulas extremely effective – as search optimisation agencies well know – they are always adjusting. For that reason, Google has come to be one of the most trusted search engines, web users have come to rely upon their relevant results – whatever the search criteria. If you search for 'monkeys wearing hats' you better bet you really will get a first place listed site of 'monkeys wearing hats'. Just you go and see for yourself!
"You looking at me?"
With search results consistently relevant, web users are inclined to presume that those who are listed highest (and are therefore most relevant) are those who have the most authority on any given matter. It's usually a pretty accurate assumption too – sites that are listed highest are ranked based not only on the relevance of their content ("yep, there really are a lot of monkeys wearing hats on that site") but their links with other sites too ("not only can we see the pictures with our own eyes, but website A, B, C and D are sending users there for monkeys wearing hats as well… it must be a trusted resource!").
"What the appeal of Google's number one spot for site owners?" I hear you cry! Yes, browsers get what they are looking for but, what are the perks for those domains at number one?
Well, for site owners it's pretty much all about the… money!
However you look at it, the increased views of Google's top spot will always equal increased profits. Whether you're selling your wares or pushing a blog, increased views mean increased ad rates and increased likelihood of product sales. Ka-ching.